Halt Student's Execution, Review Torture Allegations
Unfair trial was full of irregularities, pressure by security forces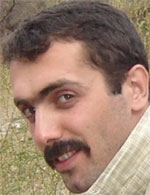 (25 December 2010)  The Iranian Judiciary should immediately halt the execution of Habibollah Latifi, which is scheduled to take place on 26 December, and review allegations that his confession was coerced under torture, as well as numerous other irregularities in his trial including interference by security agents, the
International Campaign for Human Rights in Iran
said today.
"No one seriously and objectively reviewing the facts could have any confidence in a guilty verdict and death sentence in the case of Habibollah Latifi," stated Aaron Rhodes, a spokesperson for the Campaign.
"His execution would confirm that the Iranian justice system arbitrarily deprives people of their lives, which is the most tragic of all injustices," he said.
A source close to the case told the Campaign that the execution sentence is based solely based on confessions obtained under pressure, and that no substantive evidence was presented to support the verdict.
Latifi, 29, who is an engineering student of Kurdish ethnicity, was arrested on 23 October 2007.  He was charged with Moharebeh, or "enmity against God," for allegedly attacking a police station, planning the assassination of the Sanandaj prosecutor, and setting off explosions.
A member of his family told the Campaign that he was tortured in prison to coerce a confession to having committed crimes he absolutely denied after his trial.
In an interview with the Campaign, his niece, Sogand Ahmadzadeh, said that during the first days after his arrest, the Sanandaj Intelligence forces had beaten him with batons so hard that he developed kidney bleeding.
She rejected unsubstantiated claims that he had been involved in illegal political activity, and said she believed the case had been "fabricated" by intelligence officials.
"He was just a student.  He was a student who participated in student activities such as sit-in's and gatherings, and all these activities are legal.  How can a student be a Mohareb, enemy of God?  Habib himself said in court that they have extracted confessions from him under special circumstances and under torture.  But his confessions are not true, because he had to accept whatever they said under horrific conditions.  But the judge did not accept his statements in court," said Sogand Ahmadzadeh about her uncle's Moharebeh charge.
During his trial, the court barred defense witnesses from giving testimony that would have proven Latifi's innocence.
Nemat Ahmadi, one of Latifi's lawyers, told the Campaign that he was presently at the Head of the Judiciary's office to deliver a letter addressed to Sadegh Larijani, requesting clemency for his client, as well as objecting to the way this case has been reviewed.
He also told the Campaign that this case has several legal problems, including objections to the court that reviewed the case:
"In the newly-passed law pertaining to General and Revolutionary Courts (2004), charges which could lead to death sentences are within the jurisdiction of the Province Criminal Courts, which means the cases must be reviewed by five judges presiding, whereas in cases which are within the jurisdiction of the Revolutionary Courts, only one judge presides.  We believe that this death sentence should have been issued by a court presided over by five judges, not a court with one judge.  This is a problem in this case," Ahmadi said.
"If this trial had been held in a more open atmosphere without the presence of security forces, there would most definitely be no charges against him," he said.
A number of Kurdish Iranians who have been socially active and engaged in  defending the rights of members of their community have been executed since 2007, including Ehsan Fatahiyan, Fasih Yasamini, Farzad Kamangar, Farhad Vakili, Hassan Hekmat Demir, Ali Heydariyan and Shirin Alamhooli.