Sotoudeh's Deteriorating Health Ends Hunger Strike; Interrogators Tell Lawyer They Control Her Trial Outcome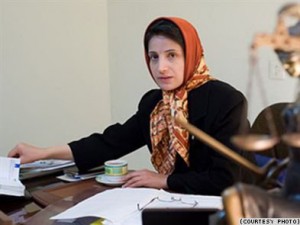 Reza Khandan, Nasrin Sotoudeh's husband, discussed her latest situation during an interview with the International Campaign for Human Rights in Iran. "She called me fifteen minutes ago and we talked. The news about her transfer to the prison infirmary was accurate. She told me today that her condition deteriorated on Wednesday and she had to be taken to the infirmary. It seems her condition became very dangerous on Thursday, and she was forced to break her hunger strike. To tell you the truth, she couldn't explain very well what had happened, because our children listen to our [telephone] conversations, too. She told me 'I broke my strike because of my deteriorating health. I'll see what happens now. I have to remember my children and not make decisions just for myself,'" said Reza Khandan.
Lawyer and human rights activist, Nasrin Sotoudeh, told her husband about her deteriorating health in prison which has caused her to break her hunger strike. She has also told her husband that her interrogators have advised her that they have determined her sentence in prison, before the judge has issued a ruling.
"Ms. Sotoudeh told me the last time that her prison interrogators have told her 'we won't let the judge give you less than ten years in prison.' During her call today, she also said that her interrogators have said she will be sentenced to serving her prison term in exile in Karaj's Rajaee Shahr Prison. This means that the interrogators have already determined her prison term and the location of her detention without a court ruling, and maybe even the judge presiding over Nasrin's case is not aware of this. I don't know what kind of organization the [Iranian] Judiciary is, where even the location and term of a prison sentence are determined by officers inside the prison," Khandan told the International Campaign for Human Rights in Iran.
Reza Khandan also addressed Mohammad Javad Larijani's recent accusations against Nasrin Sotoudeh. "The first chance I get to visit with her, I will bring this issue up to Ms. Sotoudeh, because she has no idea about this and she is the one who will have to file suit. But I believe that as soon as she hears this news she will file a lawsuit against Mr. Larijani, because the accusations he has waged against her are extremely heavy, undue, and completely unfounded. These accusations were not even waged during Ms. Sotoudeh's trial [as a part of the indictment against her]. Mr. Larijani has made accusations such as saying that during the years, Ms. Sotoudeh has gone from one capital to another, talking against Islam. During her 47-year life, she has only traveled abroad three times. Her first trip abroad was at a time when she had not yet passed the bar and was not working as a lawyer, so during her professional life, she has only traveled abroad twice and I don't believe she has given any interviews during those trips. 'Contact with terrorist groups' is a very heavy accusation and the whole world knows her positions, so this accusation will not stick to her at all. I am sure that the first thing she will do as soon as she is released is to file suit against Mr. Larijani. But I don't know when this will happen or when her lawyers will submit her lawsuit. I will need to see her to talk about this," said Reza Khandan.
"I gave her the messages from all her friends, public figures, and activists, and this made her very happy and she thanked everyone. I also told her about the sit-in of women's rights activists in front of the UN. This news made her choke and cheer up. I am just happy that she has stopped her hunger strike. That's all," Reza Khandan concluded.
Nasrin Sotoudeh was arrested on 4 September after she appeared at the Evin Prison Court. During her detention, she has remained in solitary confinement and for more than 70 days she has been on wet and dry hunger strike. Nasrin Sotoudeh has broken her last round of hunger strike, following the deterioration of her health. She remains in solitary confinement, waiting for her sentencing.