Iran Election Update – May 15, 2017
Items of Note
Influential reformist leader Mohammad Khatami has thrown his weight behind incumbent President Hassan Rouhani for Iran's May 19 presidential election. "We started on a path with Mr. Rouhani and we are at the halfway point," he said in a video message posted May 14 on his social media accounts. "Repeat your vote for the dear Mr. Hassan Rouhani to strengthen hope and a better future." The former president (1997-2005) posted his message online because Iranian media outlets have been banned from mentioning him.
"I can attest that Mr. Rouhani's government has been a successful one," said Khatami, referencing the final nuclear deal signed in 2015 and decreasing inflation. "With all the limitations, problems and high expectations, the government has served the revolution, the people and the country very well."
Update: The prosecutor's office in Tehran has warned campaign managers and the media to remove Khatami's video message from their social media pages or risk being arrested, CHRI has learned. Many Iranian channels on the widely used Telegram messaging application and Instagram have complied.
Detained Green Movement Leader Endorses Rouhani
On May 15, former presidential candidate Mehdi Karroubi, who has been under extrajudicial house arrest since 2011 for disputing the 2009 election result and encouraging the widespread, peaceful protests that ensued, has endorsed incumbent President Hassan Rouhani.
Presidential Candidate, Hardline Cleric Endorse Raisi
Conservative presidential candidate Mohammad Bagher Ghalibaf announced on May 15 that he has withdrawn from the race and endorses fellow conservative Ebrahim Raisi. This election marks the mayor of Tehran's third unsuccessful bid for the presidency.
On May 15, senior hardline Shia cleric Ahmad Alamolhoda also endorsed Raisi.
Anti-Rouhani Sabotage Attempts Continue 
President Rouhani's chief campaign manager instructed staff and supporters on May 12 to ignore attempts by "known persons" to incite violence after the final presidential debate that day. "There's a possibility that after the debate and during the rest of the campaign, some known persons are going to instigate non-peaceful and disruptive actions in favor of or against certain candidates with the illusion of creating propaganda fodder for the enemies," said Mohammad Shahriatmadari in a statement posted on Rouhani's official campaign website. "It is necessary for all of us working for Dr. Rouhani's campaign offices… to keep our calm and composure and defuse any instigation or bad behavior with our revolutionary demeanor," he added.
Rouhani's main campaign office in North Tehran was blocked off by security forces after the debates on April 28 and May 5.
The government has also banned "crowds" from campaigning in the streets. Deputy Interior Minister in Charge of Security Hossein Zolfaghari added that "more than 260,000 individuals are directly in charge of providing security during the elections."
Meanwhile, Rouhani's official campaign website suffered another malicious hack attempt on May 12 that made the site inaccessible for close to an hour. The site has been the target of more than 1,300 such hack attempts since April 28, CHRI has learned.
Rouhani Aide Cries Foul
A close aide of President Rouhani has accused the judiciary and security forces of colluding against the incumbent with some of his rivals ahead of the May 19election. "I wish there wasn't this relationship between some of the candidates and part of the judiciary and parts of the military and security agencies," said the president's media adviser, Hesameddin Ashena, in an interview with ISNA on May 12.
Ashena didn't elaborate, but made a veiled reference to presidential candidate Mohammad Bagher Ghalibaf in his next comment. "This shows what kind of characters they are," he said. "Right now they only have access to municipal documents, and yet we see how they take improper advantage of them. God forbid if one day they gain access to security documents regarding the private lives of individuals."
During the third and final televised presidential debate on May 12, Ghalibaf accused Rouhani of acquiring a large piece of land in an affluent Tehran neighborhood at a rock-bottom rate. Rouhani meanwhile pointed out Ghalibaf's established role in corruption tied to the Tehran municipality.
Final Presidential Debate Quotes
Following are key quotes from the last of the three scheduled presidential debates, which took place on May 12.
President Hassan Rouhani (centrist): "Mr. Raisi mentioned a number of times that it would be a good idea if there was a debate between the current government and the previous one (under former President Mahmoud Ahmadinejad). But would it not be better if we had a debate with Mr. Raisi himself? I say this because the same people who were in (Ahmadinejad's) government are now working for his campaign and giving him ideas. Mr. Raisi says that many of the issues we have raised are in the past. But were you not in the judiciary at the time?"
"Mr. Ghalibaf, your strategy has always been to pummel problems. When you came to meetings, you used to say 'I will pummel these students in two hours.' If we had not put the brakes on you, you would have pummeled all the universities. These people from the security agencies who are bused over from other cities (to support Ghalibaf), ask them who is paying them? They are being paid by the public treasury. Why is no one doing anything about this, including you (Raisi), a judge?"
"Mr. Raisi, you can say anything you want about me. You have a free hand. You are also a prosecutor in the Special Court for the Clergy and have the power to arrest any religious scholar. Go ask around about how the clergy have suffered because of you…"
"People! Four years ago we made a pact and went forward. We were 10 times as strong as the sanctions imposed on us. We resisted and broke the sanctions. Any excuse could have started a war, but we eliminated that possibility. In addition to the sanctions that I removed in the past four years, I declare to the people that in the next four years, I will remove the other sanctions imposed on our nation and I will do so with strength and in a manner that would benefit the people and protect Iran's dignity."
Ebrahim Raisi (conservative): "You are scaring the people about their political and civil liberties. I should say that every government has a duty to guarantee political and civil liberties. Let me ask Mr. Rouhani, have you allowed Kurds to speak their language freely? God and the Constitution have allowed them to speak their own language and wear their own clothes. These are rights bestowed by God and all the government needs to do is support them. We don't have first, second and third class citizens. The government is obliged to serve (all) 80 million people."
"We have to pick competent people to carry out our affairs and when a monitoring agency sends a report that so and so is corrupt, it should be carefully dealt with. It doesn't matter where this corruption takes place—under my turban, or Mr. Rouhani's or under Mr. Jahangiri's jacket or Mr. Ghalibaf's—it needs to be carefully looked at. The head of the government should be most careful about this. When it was announced that the closest person to Mr. Rouhani was involved in corruption, he (Rouhani) not only refused to do anything about it, but also actually resisted."
"If we really want to clean up our civil service, we can. Under my government of work and grace, we will strive to prevent any kind of corruption from getting into the country's official departments. We need to be firmly determined to expel corrupt individuals. The people are tired of official corruption, but it can be solved with firm will and determination."
Rouhani's response to Raisi: "You are a respectable judge and yet you make such accusations. Is this how you want to become president and serve the people? I have not made a brotherly pact with anyone. No one stands in my way. You are playing campaign games. If you oppose corruption look into that 12 trillion toman ($3.7 billion USD) case involving, on the one hand, that judge who was deposed for his violations, and two others, one of whom escaped the country and another who was a government official and is now working for your campaign. If you are against corruption, why have you not done something about the cases you are aware of?"
Vice President Eshaq Jahangiri (reformist): "The candidates should not be afraid of sharing their record. They should come and say that they were in the police force and did such and such (reference to Ghalibaf). Or say they were in the judiciary and did this and that to fight corruption (reference to Raisi). Mr. Raisi has been in the judiciary for more than 30 years. He should tell us what he has done to deal with corruption. Nobody has had so much experience as high up in the judiciary as he–he should tell us about it."
Candidates
Out of the record number of 1636 applicants who registered to run on May 19 for Iran's presidency, the following six men were approved by the Guardian Council, which vets all applicants.
Hassan Rouhani – Current centrist President Hassan Rouhani fulfilled his promise of resolving Iran's nuclear dossier by getting the final deal signed with world powers in July 2015. However, he has failed to satisfy voters' hopes of an improved economy and human and civil rights.
Ebrahim Raisi – After serving on the "death committee," which implemented the executions of thousands of political prisoners in 1988, Raisi went on to work in senior judicial positions, and currently heads Astan Quds Razavi, one of Iran's wealthiest religious institutions that effectively functions as a major business conglomerate.
Mohammad Bagher Ghalibaf (Withdrawn) – The conservative former mayor of Tehran played a direct role in repressing and carrying out violence against student protesters in July 1999, July 2003, and in the 2009 post-election protests. This is his second time running for the presidency.
Mostafa Mir-Salim – The conservative politician served as minister of culture and Islamic guidance during former President Akbar Hashemi Rafsanjani's term.
Eshaq Jahangiri – Current First Vice President Eshaq Jahangiri is a reformist politician and served as the minister of industries and mines from 1997 to 2005 under former reformist President Mohammad Khatami.
Mostafa Hashemitaba – The reformist politician served as Iran's vice president under President Rafsanjani and the head of the National Olympic Committee of Iran under President Mohammad Khatami. He was also a candidate in the Iran's 2001 presidential election.
---
Presidential Election Debates
Subjects
1. Economic Issues
2. Social Issues
3. Political Issues
Dates
April 28, 2017 (completed)
May 5, 2017 (completed)
May 12, 2017 (completed)
---
Articles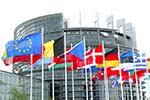 29 Members of EU Parliament Urge Iran to Release Detained Journalists and Activists Ahead of 2017 Elections
Twenty-nine members of the EU Parliament have urged the EU to call on the Iranian government to stop the pre-election intimidation campaign against journalists and activists and ensure a free and fair vote.
Tehran Council Candidate: "Military Organizations" Intervened to Disqualify Reformist Candidates
Ali Tajernia, a reformist politician and former member of Iran's Parliament, told the Center for Human Rights in Iran (CHRI) that his disqualification from the Tehran City Council election following pressure by "military organizations" is "illegal" and he will formally complain.
Also See:
Iran Election Update | May 11, 2017