Iran Election Update | May 19, 2017 (Live Updates)
Items of Note
Rouhani Wins May 2017 Iranian Election – May 20 4:00am EST
Incumbent President Hassan Rouhani was declared the winner of Iran's May 2017 presidential election during the early morning hours (EST) of  May 20, with the following reported numbers, according to the Tasnim News Agency:
Total votes: 41 million
Rouhani:: 23.5M (57%)
Raisi :15.7M (38.5 %)
Mir Salim: 478K
HashemiTaba: 215K
There is a reported dispute over how many votes Rouhani received, with supporters claiming the number was much higher.
Detained Green Movement Leaders Submit Ballots – May 19, 4:00pm EST

Former presidential candidate Mir Hossein Mousavi and his wife Zahra Rahanvard–under extrajudicial house arrest since February 2011 for peacefully disputing the 2009 vote count–submitted their ballots in the last few minutes before the midnight deadline, according to Tasnim at a ballot box that was brought to their home where they are been held. The two, and fellow Green Movement leader Mehdi Karroubi, had endorsed incumbent President Hassan Rouhani.
75% Voter Turnout Reported – May 19, 4:00pm EST
With polling stations now closed, 42 million people out of Iran's 55,936,000 eligible voters submit ballots in the May 2017 elections, according to the hardline judiciary's official news agency, Mizan. The official Iran newspaper tweets that in Australia, 9,951 people voted for Rouhani, with 235 voting for Raisi.
120 People Arrested in Tehran – May 19, 2:00pm EST
The head of the Tehran's prosecutor's office, Gholamhossein Esmaili, announced that "120 people" have been arrested in Tehran for alleged charges including "vote buying and selling."
Judiciary Announces 120 Arrests in Iran – May 19 2:00pm EST
All polling stations in Iran will be open until midnight May 20, the Interior Ministry has announced.
Voting Extended Until 12am IRST
All polling stations in Iran will be open until midnight May 20, the Interior Ministry has announced.
Provincial Governor Generals Dispute Raisi's Complaint – May 19, 12:45pm EST
Conservative presidential candidate Ebrahim Raisi's campaign spokesman, Sowlat Mortazavi, has complained to the Interior Ministry about what he claims was a shortage of ballots in Khuzestan, North Khorasan, South Khorasan and Khorasan Razavi provinces. Ghanoon newspaper, which reported the complaint on its Telegram channel today, added that the governor generals of all those provinces have disputed the existence of any problems with the number of available ballots in today's elections for president and local councils.
Raisi Claims "Widespread Fraud" – May 19, 12:20pm EST
According to the hardline Fars News Agency, which is close to the IRGC, conservative presidential candidate Ebrahim Raisi is heading to the Interior Ministry to discuss "widespread fraud across the country."
Detained Opposition Leader Karroubi Casts Vote – May 19, 12pm EST
Mehdi Karroubi, who has been under extrajudicial house arrest since 2011 for peacefully disputing the result of the 2009 election, which he ran in, cast his vote for President Hassan Rouhani today.
Fars News Cries Foul – May 19

The hardline Fars News outlet, which maintains close ties with the Revolutionary Guard, has been printing mostly non-specific reports on its site all day claiming that the Rouhani government has been committing illegal election acts.
Polls Extended for Third Time – May 19, 12:15pm EST

Voting in Tehran and throughout the country has been extended several times already, with the governor promising every single person who wants to will be allowed to vote.

Prominent Political Prisoners Vote – May 19 
Prominent political prisoner Narges Mohammadi, and former political prisoner Bahareh Hedayat (pictured beside actress Taraneh Alidoosti) voted in Iran's elections today.
Former Presidential Candidate Resigns from Supreme Leader's Office After Endorsing Khamenei – May 18, 10:08am EST
Former presidential candidate Ali Akbar Nateq Nouri, who unsuccessfully ran as a conservative against reformist leader Mohammad Khatami in 1997, has reportedly resigned from the head of the auditing office of Supreme Leader Ali Khamenei a few days after publicly endorsing incumbent President Hassan Rouhani for the May 2017 election.
Prominent Female Political Prisoners Urge Rouhani Vote – May 18, 9:30am EST
Imprisoned human rights activist Narges Mohammadi, imprisoned Christian convert Maryam Zargaran, and imprisoned Iranian-British citizen Nazanin Zaghari-Ratcliffe–all in Evin Prison–urged Iranians to vote for Rouhani on May 17. The news was announced by Mohammadi's husband, Taghi Rahmani, on his Telegram channel.
Rouhani Supporters Warn Against Vote Tampering
"If there is cheating (vote tampering), there will be a resurrection," chant crowds of Rouhani supporters in Shiraz on May 17. After the 2009 presidential election, widespread, peaceful protests erupted in Iran, especially in Tehran, against the disputed re-election of President Mahmoud Ahmadinejad, with voters chanting, "Where is my vote?"
Rouhani Criticizes Revolutionary Guard in Firey Speech
During his last campaign rally on May 17 in the city of Mashhad–the hometown of his main rival Ebrahim Raisi–Rouhani accused the powerful Revoluntionary Guard and Basij paramilitary forces of interfering in the political process:
"We like the Revolutionary Guard and the Basij militia. All we are asking is to carry out the wishes of the imam (the leader of the 1979 revolution, Ruhollah Khomeini), who said that the military and security forces should not interfere in any political party or organization."
Other key quotes from Rouhani's speech, which was made to a packed stadium of over 50,000 people, and which was directed at hardliner Raisi and his supporters:
"You (conservative opponents) did not help us in the (nuclear) negotiations. That's fine. But why stab us in the back by making intimidating anonymous calls to (Foreign Minister Mohammad Javad) Zarif and (Deputy Foreign Minister Abbas) Araghchi?"
"We have one government, one leader, one constitution. We don't want a leader in every city. Don't disrespect any person or any Friday Prayer leader." (Reference to hardline cleric Ahmad Alamolhoda, Mashhad's Friday prayer leader who has endorsed Raisi.)
"You told the people of Mashhad if they want art and artistic events, they should leave the city. Would you like to take Iran and tell the people to leave the country?"
"The hooligans you hired with knives to tear up campaign banners confessed to being paid a million tomans ($308 USD) an hour. Why did you raise the rate so high!?"
"Why did you attack the Saudi Arabian embassy (in Tehran, 2016)? Do you want to run the country by igniting fires here and there?"
Green Movement Leader: "Absolutely Necessary" to Vote for Rouhani
In addition to recieving endorsements from reformist leader Mohammad Khatami and detained Green Movement leader Mehdi Karroubi earlier this week, Rouhani recieved a strong message of support from Green Movement leader Mir Hossein Mousavi, who, along with Karroubi and Zahra Rahnavard, has been under extrajudicial house arrest since February 2011 for disputing the 2009 election result and encouraging the widespread, peaceful protests that ensued. Mousavi and his wife, Zahra Rahnavard, will attempt to vote for Rouhani in Friday's election, they told relatives at their home on May 16.
"In the meeting Mousavi gave an analysis of the current state of affairs and political situation and said: 'The propaganda on state radio and television has made it absolutely necessary to vote for Mr. Rouhani. During sensitive times, it is the people who lead and their voice is stronger than the state radio and television,'" the pro-reform Kalame website reported.
The report added that Mousavi and Rahnavard have requested a mobile ballot box to make a stop at their home on Akhtar St. in Tehran.
Hassan Khomeini, the grandson of the revered leader of the 1979 revolution who is close to reformists, also endorsed Rouhani on May 16.
Anti-Rouhani Campaign Sabotage Attempts Continue
Since April 2017, the presidential campaign of the incumbent contender Hassan Rouhani has been the target of various sabotage attempts.
The latest attempt took place on May 16: "Just now Rouhani's campaign office in Vali Asr [Sq. in Tehran] was attacked with tear gas and people and staff scattered! Everyone removed their purple wristbands fearing they might get identified," tweeted an informed source. Purple is the Rouhani campaign's official color.
Revolutionary Guard Could Be Deployed at Polling Stations
"The police might coordinate with the Armed Forces General Command and ask for back-up," said the head of the national election monitoring committee, Ali Asghar Ahmadi, on May 15. "Some might try to spread doubts about this action, but the truth is that all the armed forces and the police and security agencies, including the Revolutionary Guard, the army, the police and the Intelligence Ministry are a single arm and the pride of the Iranian nation."
A day later, the head of the election monitoring committee in Tehran, Alireza Rahimi, condemned the suggestion.
"The deployment of military forces at polling stations, while using the lack of sufficient policemen as an excuse, is unacceptable," said Rahimi on May 16. "The people's maximum participation and their confidence in peaceful elections are important to us. We have always been proud that peace and security have been ensured with the help of the people themselves, and anything that disturbs this situation would be unbecoming."
Race Comes Down to Rouhani and Raisi
Reformist Vice President Eshaq Jahangiri dropped out of the presidential race in favor of incumbent President Hassan Rouhani on May 16. The announcement came a day after Tehran Mayor Mohammad Bagher Ghalibaf withdrew from the election in favor of hardliner Ebrahim Raisi.
---
Articles
Judiciary Announces Arrests of Election Campaign Staff One Week After Rouhani's Criticism
A week after incumbent President Hassan Rouhani criticized Iran's hardline judiciary, its spokesman has announced that dozens of government officials will face possible prosecution for unspecified election campaign violations.
Rouhani's Attempt to Adopt UNESCO Educational Guidelines Emerges as 2017 Election Issue
In the run-up to the
May 19
presidential election, Supreme Leader Ali Khamenei has strongly denounced the Rouhani government's attempt to integrate guidelines from the UN's 2030 agenda into the country's educational system.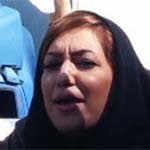 Iranian Women's Rights Activists Use Elections as "Opportunities" to Put Forth Demands
A member of the Women's Citizenship Center, a non-governmental organization in Tehran, told the Center for Human Rights in Iran (CHRI) that women's rights activists are increasingly using their leverage as an important voting block to put forth their demands during elections.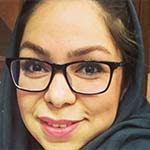 Pro-Rouhani Editor Remains Detained Without Charge
The family of Tahereh Riahi, an editor who has been detained since December 2016 without charge, is calling on President Hassan Rouhani to "keep his word on individual liberties and the rights of citizens" and facilitate Riahi's release, an informed source told CHRI.
​Iran Election Update – May 11, 2017