Husband of Imprisoned Human Rights Lawyer, Arrested for Speaking Out, Must Be Released Immediately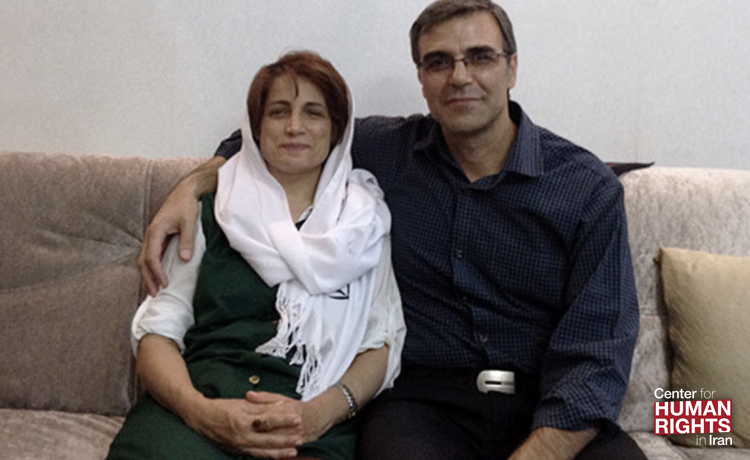 State Harassment, Arrest of Family Members to Silence Dissent Intensifies in Iran
September 4, 2018—Reza Khandan, the husband of imprisoned human rights lawyer Nasrin Sotoudeh, should be immediately released from detention in Iran, the Center for Human Rights in Iran (CHRI) said in a statement today. Khandan was arrested by agents of Iran's intelligence ministry at his home on September 4 following his public support for his detained wife.
"It is outrageous that Reza Khandran has been arrested simply for speaking out publicly on the unjust imprisonment of his wife," said Hadi Ghaemi, CHRI's executive director.
"Intelligence agencies in collusion with the judiciary are ratcheting up their harassment of family members—and trampling on the law—in order to silence any questioning of their actions," added Ghaemi.
CHRI learned that several agents went into Khandan's house early in the morning of September 4 and detained him. Before leaving the house, Khandan informed his daughter that he was going to Evin (Prison). Several hours later he phoned his home to tell them he would not be returning home that night.
Khandan's lawyer, Mohammad Moghimi, told CHRI that his client has been charged with "assembly and collusion against national security" and "promoting non-observance of the hijab." Bail has been set at 700 million tomans (approximately $166,000 USD, at the official conversion rate).
In an interview with CHRI, Moghimi said, "My client and I have not accepted any of these charges. They have no legal basis. All he did was inform the public about his wife's situation in prison. And to have pins in your home with slogans against forced hijab does not constitute promotion of bad hijab behavior. I strongly object to these charges."
The day before his arrest, Khandan posted a note on Facebook informing the public that he had received a phone call summoning him to the intelligence ministry:
"Today someone called me on my mobile and said he's from the intelligence ministry. He said I have to go there tomorrow. I reminded him that within the limits of the law nobody—no agency other than the judiciary—has the right to seek the arrest of individuals and even then it must be a written warrant that states the reasons for the arrest and the charges. Unfortunately, in response to my objection, he said: 'Then you will be arrested.'"
Since Sotoudeh's detention on June 13, 2018, Khandan has been protesting outside Evin Prison and giving interviews to Iranian media outlets abroad to condemn the authorities' unjust and unlawful imprisonment of his wife.
Sotoudeh, who most recently represented women arrested for opposing Iran's compulsory hijab rules, went on a hunger strike on August 26 to protest her unjust detention and the state's harassment of her family and friends.
In a note written by Sotoudeh which was posted by Khandan on Facebook, the prominent human rights attorney wrote: "Since my detention two months ago, agents of the Intelligence Ministry have not only illegally detained the esteemed physician Dr. Farhad Meysami, but also searched the homes of my family and friends to find pins made to protest forced hijab," she added.
As a result of Sotoudeh's work defending political prisoners, citizens' rights under the law, and women imprisoned for peacefully protesting forced hijab, she has been accused of "urging a referendum," "assisting the formation of home churches" and "organizing protest rallies" in addition to "insulting the supreme leader," "assembly and collusion against national security," "forming groups against national security," "propaganda against the state" and "espionage in hiding."
Sotoudeh and Khandan have a daughter, 18-year-old Mehraveh, and a son, 12-year-old Nima.
"The intelligence ministry, which reports directly to Rouhani and was responsible for Khandan's arrest, has become one of Iran's major human rights violators while Rouhani stands by silent," said Ghaemi.